Sophos XG 85 € 295.00– € 500.00. Firewall Appliance (0 – 5 Users) Delivery time: 2 to 4 business days (more info). Sophos XG Firewall 6 Sophos XG Series Desktop Appliances: XG 85 and XG 85w Technical Specifications These entry-level desktop firewalls are the ideal choice for budget-conscious small businesses, retail and small or home offices.
About Us
Enduser Protection
Network Protection

Secure VPN
Secure Web Gateway
Secure Wi-Fi
Secure Email Gateway

Server Protection
Online Store
Shopping Cart:
Please login or register
Create an account or Log in
Network Protection

Secure Wi-Fi

Professional Services

Enduser Protection Suites

SD Wan Optimization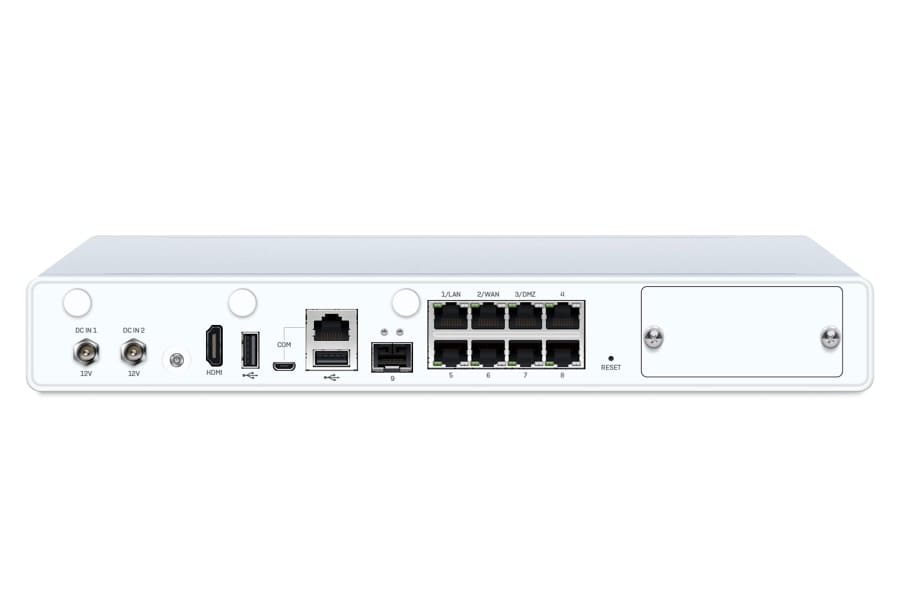 Do you have questions? Looking for something in particular? Click above to speak in real time chat with one of our engineers or sales executives.

Network and endpoint protection, centrally managed and communicating together.
For stronger, simpler security.
Description
Sophos XG 85 Subscription Renewals
Sophos Xg 85 Firewall
Overview:
Sophos XG Firewall takes an innovative approach across all areas of network security. From the way firewalls are managed, to the way they report information and how they work with other security systems around them, giving you an unprecedented level of simplicity, insight, and advanced threat protection.
With an interface designed to eliminate unnecessary complexity, it enables you to use the powerful features without needing to become an IT security expert.
Advanced protection kept simple
Most firewall products make you set up and manage policies across multiple modules or screens. Not Sophos. We provide a powerful unified policy model that allows you to manage, view, filter, and sort all your user, application and network policies on a single screen.
Potent, powerful
Reviews
Network and endpoint protection, centrally managed and communicating together.
For stronger, simpler security.
Site Map
Sophos SG Series

Sophos Central

Request a Quote

Sophos XG Series

Sophos Cloud




Sophos Showcase




Network Protection

Online Store

Sophos iView

Sophos Heartbeat

Try Sophos Free

Server Protection

Resources

Sophos UTM

Consulting Services

Enduser Protection Bundles

Contact Us

Sophos Mobile Control
Pricing and product availability subject to change without notice.
Sophos UTM Support can only sell products in the USA. No out of country sales.
Copyright © 2021 Sophos UTM Support. All Rights Reserved.
Call Us: 1(937) 644-8562 Selectus Consulting Fax Us: 1(937) 644-0044 Address: 17875 Kandel Rd Marysville, Ohio 43040
UPDATE: Information in this blog post is no longer up to date. Please see the latest information here:
https://partnernews.sophos.com/en-us/2021/02/products/updated-xg-firewall-v18-which-hardware-models-are-supported/
—
With the launch of XG Firewall v18 growing ever nearer, many of your customers will be planning for their software upgrade ahead of time, or maybe even considering a migration to XG from another firewall platform.
We will detail here which hardware models can upgrade to XG v18 and where a hardware refresh would be necessary to support an upgrade.
The good news is that all current and previous XG and SG Series hardware models with at least 4 GB of RAM can upgrade – a valid license is also necessary, of course. The XG 86 and 106 models were previously introduced specifically to address this requirement.
Restrictions for Previous Revisions
Any model with less than 4 GB cannot upgrade to v18.
XG v18 and Beyond Hardware Support Policy
This graphic provides an overview of the planned support policy.
Any model which is not supported in v18 will continue to be supported on v17.5
Any model which is only supported up to v18, e.g. older XG/SG revisions, can remain on v18 and will continue to receive support in line with our overall support policy
A complete overview of all models can be found at the bottom of this post.
Note: *Models with less than 4 GB are not supported in v18.
Determining the Revision Number of an Appliance
Customers may not know which revision they're currently on.
The revision number appears on the silver label which can usually be found on the underside of the appliance (near the manufacture date) but that may not be accessible if the hardware is mounted in a rack.
You can also determine the revision number from the serial number. This is explained in this Knowledge Base article: https://community.sophos.com/kb/en-us/118143
Model by Model Overview of XG v18 Support
The following tables show a model by model view of the XG/SFOS hardware support policy for both current and previous XG and SG Series hardware.
Current XG Series

XG/SFOS Version Support

Model
Revision

v17.5x

v18

v18.5+

XG 86/86w
1
XG 106/106w
1
XG 115/115w
3
XG 125/125w
3
XG 135/135w
3
XG 210
3
XG 230
2
XG 310
2
XG 330
2
XG 430
2
XG 450
2
XG 550
2
XG 650
2
XG 750
2
Previous XG Series

XG/SFOS Version Support

Model
Revision

v17.5x

v18

v18.5+Spring blender.

XG 85/85w*
1, 3
XG 105/105w*
2, 3
XG 115/115w
2
XG 125/125w
2
XG 135/135w
2
XG 210
2
XG 230
1
XG 310
1
XG 330
1
XG 430
1
XG 450
1
XG 550
1
XG 650
1
XG 750
1
Current SG Series
XG/SFOS Version Support
Model
Revision
v17.5x
v18
v18.5+
SG 105/105w*
3
SG 115/115w
3
SG 125/125w
3
SG 135/135w
3
SG 210
3
SG 230
2
SG 310
2
SG 330
2
SG 430
2
SG 450
2
SG 550
2
SG 650
2
Sophos Xg 85 Throughput
Previous SG Series
XG/SFOS Version Support
Model
Revision
v17.5x
v18
v18.5+
SG 105/105w*
1, 2
SG 115/115w
1, 2
SG 125/125w
1, 2
SG 135/135w
1, 2
SG 210
1, 2
SG 230
1
SG 310
1
SG 330
1
SG 430
1
SG 450
1
SG 550
1
SG 650
1
* Model has less than 4 GB RAM